The 5 Stages – Why It Exists
"Oh. Yeah," the elderly gentleman said. "I know all about Elim. It's great what you do for those kids."
I could only manage a half-hearted "thank you" as a response, which was directed mostly at his back as he walked away from my booth. at a ministry fair. Now, I know Elim would not exist without the support of a man like this. But that didn't stop me from inferring certain conclusions from what he said. He may have meant nothing more than "I know what you do." However, this is what I read in to his comments:
I know what Elim does, and don't need to know any more (or get more involved).
You serve those kids, the ones that have troubles and disabilities, the ones I don't really think need much more than what you're doing for them.
I don't need to spend any time with you.
These sorts of comments stir up a frustration in me. There's this thing called 'holy discontent,' and I'm not sure that's what I felt, but I certainly was 'discontented' with his reaction. After hearing similar comments through the years, I started to conclude (too often) that no one seemed to care, and no one seemed to understand why they should care.It seemed like most people just felt like people with disabilities existed (sometimes unfortunately, because of the burdens that came along with caring for them) and that was all. We didn't need to pour any extra special effort into their lives.
Many people have no reason to see anything wrong with that attitude. Even I struggle to articulate this. But it is this frustration that we are attempting to overcome with "The 5 Stages."
As a tool, the 5 Stages is designed to:
Open conversation about our attitudes toward people who live with disabilities.
Prompt thought and change within families, groups, churches, schools, and communities.
Equip others to spread the message to change more attitudes.
The 5 Stages, which you can review here, is designed to be a self-diagnostic tool. It allows regular people who may have never given a second thought to people with disabilities, the opportunity to assess their attitudes, and usually determine their attitude to be lacking.
Once we see that God calls us to a different attitude, we find a reason to talk about it, to pray about it, to change it. And if the tool is simple enough, straightforward enough, and accurate enough, it is easy to share with others.
The 5 Stages exists because God's Kingdom is at hand. He is building His Kingdom through the lives of His people, and He calls all of His people, including those who live with disabilities, to be part of that work. I hope this site can be an inspiration for you, for your family and church, for your school and community, to adopt a "Stage 5" attitude toward people who live with disabilities, so that you will equip them to be your "Co-laborers."
Future posts will talk about how the 5 Stages is designed to do these things, and I hope you'll stay with us to be a part of the conversation, or maybe even to join the team.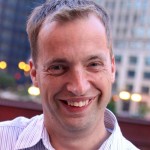 Dan Vander Plaats is the Director of Advancement at Elim Christian Services in Palos Heights, Illinois, a ministry that exists to equip people who live with disabilities to answer God's call on their lives. He is also a member of the advisory committee for Disability Concerns for the Christian Reformed Church. In 2009, he developed "5 Stages: The Journey of Disability Attitudes" as a resource for Elim. The 5 Stages helps churches and individuals assess their attitudes toward people with disabilities. He is married to Denise (Hiemstra), and is father to Ben and Emma. They are members of Orland Park Christian Reformed Church in Illinois.