Using the 5 Stages as a Handout
The 5 Stages was written for you to use with your church, your school, and your community. While the descriptions should be applicable in almost any cultural context, the words used to describe each stage may not always be appropriate. That's why it may be helpful for you to follow our blog, or to make sure you've read through this site to understand the theology behind the diagram. Please be sure to tell us about how you're using the 5 Stages today.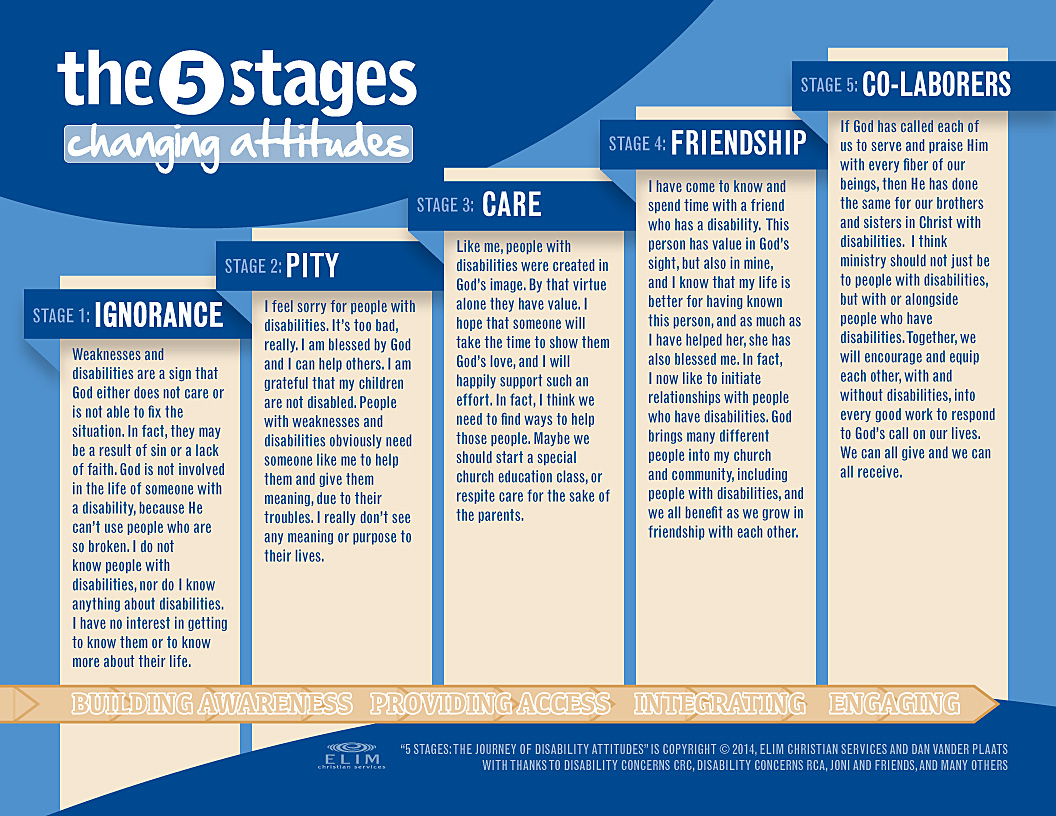 Click here to download the 5 Stages diagram in PDF.
While you are welcome to use the diagram we've provided, we are so excited to see how others have used the 5 Stages in their own publishing formats. Two Christian denominations, the Christian Reformed Church of North America, and the Reformed Church of America, have each produced a church flyer that utilized the 5 Stages as the main content. The Christian Reformed Church's version is shown.
College Church of Wheaton has an amazing approach to including people with disabilities as part of their faith community. That's why we were so honored to have them use the 5 Stages in their Disability Awareness services, using their own design.
Want to make your own 5 Stages Handout?
We protect the 5 Stages, yes, but we do that so that the message is consistent, so that the hard thinking that went into it continues to make it a valuable tool. If you want to produce your own handout version of the 5 Stages, we welcome you to do so, and we've even provided the text, if you just click here to download the file. However, we do ask the following:
Please tell us if (and how) you are using the 5 Stages – just click here to send the email.
Please use the verbiage exactly as we've provided it. The only exception is if it needs to be translated into another language, in which case, you want to visit this page.
Please click here to send us your completed project; we'd love to add it to our library and to this website.
Remember, please use the text available in this document to create your 5 Stages handout. Thank you being a part of the 5 Stages movement.