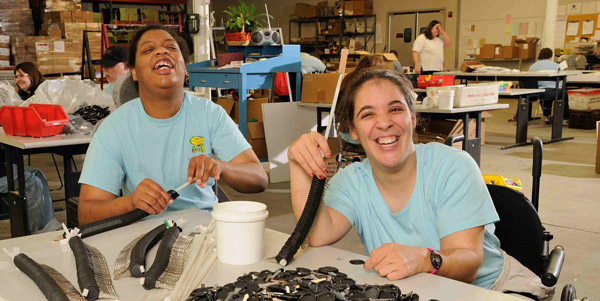 The 5 Stages is a resource developed by Elim Christian Services. Elim is a Christ-centered learning and sharing community dedicated to revealing the purpose and value of each person as a child of God.
Elim has been in ministry for almost 70 years. Among its services for persons living with disabilities is a comprehensive day program for adults with disabilities. Many people, upon visiting this program, are impressed by its commitment to the dignity and purpose of each person served here. In fact, just two years ago, Elim received a rare "Exemplary" rating from the Commission on the Accreditation of Rehabilitative Facilities (CARF), because of our innovative approach to equipping adults living with disabilities to "Make a Difference" in their community and for their neighbors.
Yet there exists a tension. When I read about disability services, or inclusion efforts, or when I attend workshops and conferences devoted to the disability issues that face our communities, I am often told that sheltered workshops are an unfortunate relic of antiquated thinking.
In many ways, these folks are right. And many of them may take a glance at Elm's services for adults and conclude that this is yet another sheltered workshop, and even wonder how indeed we could ever hope to contribute to a discussion of best practices in disability services.
Brad Johnson, director of Elim's Adult Services program, helped me understand this tension, and some of the nuances of the discussion that we often overlook, in his answers to the following questions:
Why is community integration so important to disability services organizations?

Elim emphasizes "community engagement" which measures the relationships that are developed in the community, not just the ratios of disabled to nondisabled.  Individuals who have developmental disabilities are like all of us, wanting to be loved and accepted by others.  Historically those who have disabilities have been isolated within their community.  Even under the label of community integration we have seen adults isolated not only from their community, but also their peers whose friendships they seek and cherish.  In our pursuit to integrate those with disabilities into their broader community we must be sure they develop relationships with their neighbors, coworkers, and peers that is consistent and ongoing.

What are the challenges with community integration?

Community integration often tends to assess a person's quality of life by reducing their relationships with their disabled peers.  Placing an individual in a community, work environment, church, etc. that minimizes their contact with others with disabilities is often sufficient.  We often fail to assess how many meaningful social relationships are consistently maintained.  We can get caught up assessing quality of life as a numeric measure verses a true measure of an individual's satisfaction with the relationships within one's life.  Each person has individual needs and one standard measure will fail to truly measure quality of life.  Extroverts often enjoy many varied friendships.  Introverts cherish just a few intimate relationships.  Quality of life assumptions such as community integration need to be assessed by the individual's needs and desires and not a one-size-fits-all mentality.

What is the focus of a program like Elim's Adult Services?

At Elim, we have witnessed the tremendous impact that community service or volunteerism has made in the lives of the adults we serve as well as those in our community.  Many of our adults have found fulfillment and established numerous relationships with others in their community by volunteering at local non-profits and churches (through Elim's "Making a Difference" program).  The adults grow in their esteem and self-worth by helping others in need and receiving gratitude and praise from those they serve.  In addition, people in our community are seeing the valuable contributions our adults are making to their community and overcoming barriers of fear that have created barriers to closer relationships. While community integration increased greater tolerance in the community, community engagement has increased greater acceptance.

Are there benefits to larger aggregate settings for individuals who have developmental disabilities?

When it comes to quality-of-life measures, peer relationships are extremely important to the adults we serve.  One of our biggest barriers to finding jobs for our adults in the community is loneliness.  Although co-workers may be nice to them and tolerate them, the intimacy associated with friendship seldom develops.  So after the excitement of having a new job wears off, an individual tends to lose interest and commitment to their job, so they can return to their friends.  Adults who have developmental disabilities enjoy the opportunity to socialize with numerous adults with similar disabilities, so that within their peer group they may find and develop long-lasting and intimate friendships.  In addition, there is a much greater sense of acceptance and appreciation among their peer group than in the broader population, though we hope that continued 'community engagement' will change that reality as well.

What are the benefits and shortcomings of a "least restrictive environment?"

We should always strive to help adults who have disabilities to become more self-sufficient and less dependent on others for their personal care, home-keeping, meal preparation, access to the community, ability to financially support one-self etc.  At the same time, we need to make sure we do not socially isolate a person by putting him or her in an environment that stifles their ability to maintain meaningful relationships.  Again the needs and desires of individuals who have disabilities are broad and diverse.  Measures to assess the least restrictive environment must be based on the personal needs and interests of the individual and not one set measure such as employed full time in the community and living in one's own residence.  Often we take very good ideas and turn them into very narrow-minded standards.  As long as the least restrictive environment is personally tailored to the needs and desires of the individual in question, there can be great strides in increasing one's quality of life!

What is the vision for Elim's services for adults who live with developmental disabilities?

Elim desires to see adults who have developmental disabilities to be actively engaged in their communities.  We want communities to see and appreciate the many contributions individuals who have disabilities bring to our community.  Our vision is to have individuals working, playing, living, and serving in their community alongside their family, friends, and neighbors.  One great treasure I have found in adults who have disabilities is their great acceptance, appreciation, tolerance, love, and ability to forgive.  There is much the "non-disabled" community can learn from those who have developmental disabilities.
As always, Elim remains committed to the development and deployment of best practices in its services and opportunities to equip adults with disabilities. We believe this is best practiced not just in the pursuit of independence, capability, or even in financial success, but in relationships, in pursuing one's purpose and calling, and in meaningful activities that build the Kingdom.
While we stand with those who question the legitimacy and wisdom of isolated sheltered workshops (through which many people have and continue to prosper on the backs of those living with disabilities), we also humbly suggest that the issue of community integration is a complicated one, and we cannot categorically dismiss peer-relationship community services as a viable and even desirable solution.
After all, it is the kind of thinking that Brad and his team employ at Elim's Adult Services program that helped us build The 5 Stages in the first place.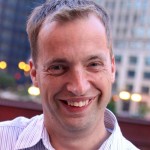 Dan Vander Plaats is the Director of Advancement at Elim Christian Services in Palos Heights, Illinois, a ministry that exists to equip people who live with disabilities to answer God's call on their lives. He is also a member of the advisory committee for Disability Concerns for the Christian Reformed Church. In 2009, he developed "5 Stages: The Journey of Disability Attitudes" as a resource for Elim. The 5 Stages helps churches and individuals assess their attitudes toward people with disabilities. He is married to Denise (Hiemstra), and is father to Ben and Emma. They are members of Orland Park Christian Reformed Church in Illinois.