In 2012, Elim Christian Services lost a great member of its team when Vinnie Adams agreed to take on a new challenge. Our good friends at Faith Church, a large, multi-site church (and member of the Reformed Church of America denomination) in Dyer, Indiana, and longtime friends and supporters of the mission and vision of Elim, had asked Vinnie to build a special needs ministry there.
It didn't take long for Vinnie to cast his vision for that ministry. Here's a short excerpt from a recent interview we conducted with Vinnie:
It was literally the first document that I brought to Pastor Bob. It was my third day in the office, and we did a peer-learning day downtown Chicago. It was me, Ryan, and Bob. When I shared it with him, he just said "This is it."

Your church can have all the resources in the world, but if your church doesn't have the attitude for this, it's all for naught,

What the 5 Stages brings is that church-wide assessment tool to say 'we have to do this together, change our whole church attitude.' It's almost scary to think about a church without the right attitude. Imagine the experience of that family, and all they could think afterwards is 'this is how the church responded,' if they don't have the right attitude, what does that mean for all our churches and how they are responding to families who want to be there.

Here's The 5 Stages in a nutshell: act like Jesus.

That's all there is to it. Churches might strive to have a disability ministry, but if they don't have the attitude and the mindset, they're missing it. It's the pre-assessment tool for every church before they do anything with disability ministry.

It provides a framework to think big-picture about each aspect of your ministry. Is this exemplifying care or pity or co-laboring or something else?
In a very short time, we at Elim were asked to participate in the launch of Faith Church's new special needs ministry. Today, that ministry includes:
Reflectors Worship – provides a safe place for worship and scripture lesson and social time as an alternative to the regular worship service
Prayer partner ministry – part of Reflectors ministry, it is truly a co-laborer ministry because you partner off (a person with disabilities and someone who does not identify as disabled) and you pray with and for each other
Respite and Parent Support – Co-laboring with and empowering families to raise kids to know Christ
Frontlines team – This is a greeter team comprised of people with different abilities
Treasureland – full inclusion of students with different abilities (seeing true mutuality and gift using by people with special needs)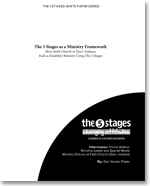 These efforts testify to the value and utility of The 5 Stages as you and your church not only assess how you include and minister to people who live with disabilities, but also as you actually build those ministry efforts with the 5 Stages as your source document. Because of their success and momentum, we asked Vinnie to share how Faith Church used The 5 Stages as a framework for building their disability ministries. That interview is completely recorded in the first in our new series of White Papers.
Click here to download and read this white paper today.
Click here to find out more about the Reflectors ministry and other special need ministries at Faith Church.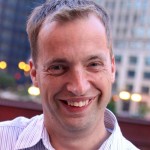 Dan Vander Plaats is the Director of Advancement at Elim Christian Services in Palos Heights, Illinois, a ministry that exists to equip people who live with disabilities to answer God's call on their lives. He is also a member of the advisory committee for Disability Concerns for the Christian Reformed Church. In 2009, he developed "5 Stages: The Journey of Disability Attitudes" as a resource for Elim. The 5 Stages helps churches and individuals assess their attitudes toward people with disabilities. He is married to Denise (Hiemstra), and is father to Ben and Emma. They are members of Orland Park Christian Reformed Church in Illinois.