I just don't know HOW. This is the statement that I often hear when I speak with church leaders about including people who have disabilities. How do we move from pity to care, or from care to friendship? How do we move through the five stages of being ignorant of those with disabilities to becoming co-laborers in Christ with those who have disabilities? While the process of changing attitudes and the atmosphere at your church may seem daunting, CLC Network (Christian Learning Center) has a tool available to help you and your church in this process.
We offer a planning process called G.L.U.E, which stands for giving, loving, understanding, and encouraging. G.L.U.E. is a manual that comes alongside churches as they strive to be an inclusive community. CLC Network desires for you to do "ministry with" individuals who have disabilities, rather than "ministry to" individuals who have disabilities. We desire for churches and communities to see each person as a co-laborer in Christ.
Our G.L.U.E. Training Manual and DVD is a three hour long training session, broken up into four segments. This training will walk you through the biblical and theological thinking for viewing all people as an important part of the Body of Christ. It will focus in on appointing a special needs coordinator, getting to know the person(s) with a disability, sharing the vision of G.L.U.E. with your church, developing an inclusion action plan, and training a support team for the person(s) with a disability. If your church is able, we ask that you purchase the training materials on the CLC Network website.
We are aware, however, that some churches may not be able to afford these materials, and, because of this, we offer a grant that allows churches to purchase our G.LU.E. Training Manual and DVD for free. To apply for a G.L.U.E. grant, visit our website, www.clcnetwork.org/GLUEgrants. Here, you will fill out a short application form. Once your grant is approved, you will receive a DVD and training manual in the mail.
Because we are each different, G.L.U.E. is meant to be adaptable to each person's differences, rather than a cookie-cutter program. It is a planning process that is flexible for each church, each community, and each individual. Whether you are in charge of ten churches or one, whether your faith community is big or small, you can make G.L.U.E. your very own.
And, it is a process. It's a process that not only speaks to the individual, but it also speaks to everyone else as we work to become an example of God's body—as we work towards God's Kingdom as co-laborers in Christ.
Go here to get an overview of the G.L.U.E. Process: http://www.clcnetwork.org/church_services/glue_process.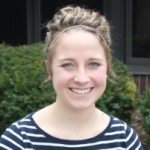 Jacki Sikkema has a background in Special Education and currently serves in the Church Services Division at CLC Network, a ministry that, like Elim Christian Services, is devoted to equipping people who live with disabilities to answer God's call on their lives.