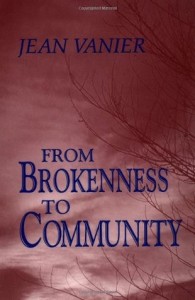 Today, we share a brief quote from the book From Brokenness to Community, by Jean Vanier:
And I come here to tell you how much life these people have given me, that they have an incredible gift to bring to our world, that they are a source of hope, peace and perhaps salvation for our wounded world, and that if we are open to them, if we welcome them, they give us life and lead us to Jesus and the good news.

It is my belief that in our mad world where there is so much pain, rivalry, hatred, violence, inequality, and oppression, it is people who are weak, marginalized and counted as useless, who can become a source of life and of salvation for us as individuals as well as our world.
If you are looking for a great, short book, you will be hard-pressed to find something more thought-provoking, inspiring, or quicker to read than this brief booklet. In it, Vanier, founder of the L'Arche movement, weaves stories of his own experiences into a broader presentation of the impact that weakness and brokenness have on the Christian community.
Here too, though, Vanier points to the age-old question of value. What determines our value. As stated in other posts, our value comes not from our weakness, or from our differences, it comes from the way in which God redeems those aspects of our lives to His purposes. You can read more in our blog post about value.
What do you think? When people come into relationship with those who have disabilities, something powerful happens. What is that? Why does that happen?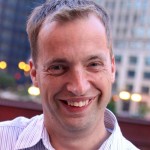 Dan Vander Plaats is the Director of Advancement at Elim Christian Services in Palos Heights, Illinois, a ministry that exists to equip people who live with disabilities to answer God's call on their lives. He is also a member of the advisory committee for Disability Concerns for the Christian Reformed Church. In 2009, he developed "5 Stages: The Journey of Disability Attitudes" as a resource for Elim. The 5 Stages helps churches and individuals assess their attitudes toward people with disabilities. He is married to Denise (Hiemstra), and is father to Ben and Emma. They are members of Orland Park Christian Reformed Church in Illinois.