Two weeks ago, I posted a personal perspective on God's purpose in disability. In it, I postulated that it is not a question of whether or not God made me this way (as a disabled person), but that He has a redemptive purpose in each life.
I want to follow that up by sharing what I've learned from others.
In the post "Why Was This Child Born Blind?" from Desiring God Ministries, John Piper says:
The decisive explanation for this blindness is not found by looking for its cause but by looking for its purpose. [John 9] Verse 3: Jesus answered, "It was not that this man sinned, or his parents, but that the works of God might be displayed in him." Piper offers a very specific application of John 9:3, to point out that:
[The disciples] want to know: Why is he blind? And Jesus really does give an answer. This is why he's blind—there is purpose in it…
God knows all things. If God foresees and permits a conception that he knows will produce blindness, he has reasons for this permission. And those reasons are his purposes. His designs. His plans.
And third, any attempt to deny God's sovereign, wise, purposeful control over conception and birth has a head-on collision with Exodus 4:11 and Psalm 139:13.  "The Lord said to Moses, 'Who has made man's mouth? Who makes him mute, or deaf, or seeing, or blind? Is it not I, the Lord?'" "You formed my inward parts; you knitted me together in my mother's womb."
Though its very mandate is somewhat constricted to the pursuit of the "Great Commission," the Lausanne Movement (and its subsequent 'conversations' – all of which can be found at the website for the Lausanne Movement) are very helpful as we dissect the issue of disability in relation to the Kingdom of God.
Instructively, the authors of "How Does God View Disability?" (a subsection of " Hidden and Forgotten People: Ministry Among People With Disabilities" written by  Joni Eareckson Tada and Jack S. Oppenhuizen) tell us that "Of course, Satan sometimes causes illness (Job 2:7; Luke 13:16) – but in these references, as everywhere, Satan unwittingly serves God's ends and purposes. No trial, no disease or illness, no accident or injury reaches us apart from God's permission…God may not initiate all our trials, including diseases, birth deformities and injuries, but by the time they reach us, they are His will for us for whatever time and purpose that He determines."
These distinctions, however small they seem, are important, and are also reflected in the serious theology presented in Steph Hubach's "Same Lake, Different Boat," a book in which Steph tells us stories about her son who lives with Down Syndrome (Tim) and her son who doesn't (Fred). Throughout, Steph builds a step by step approach to thinking theologically about disabilities.
Ultimately, Steph draws these distinctions, but talks about them in a very unique way. These distinctions are very important for us today, and she attributes them to certain world views. It is helpful to remember that, while some of these are secular world views, they can have a significant impact on religious thought and theology.
The first view, the 'historical view' on disability (even among Christ-followers) has long been: "Disability is an Abnormal Part of Life in a Normal World." This view informs the disciples' question about sin and the man born blind. It says, this person did something wrong, that's why he has a disability. It also implies that in some way God's sovereignty does not extend over disability, and therefore that person has no place, no value, no work to do in the redemption of the world.

The second view is referred to as postmodern and postulates that "Disability is a Normal Part of Life in a Normal World." Broken down into Christian thought, this leads to the view that God created this person, and created him as he is. He is blessed with a disability. He is okay as he is, and there is nothing wrong with him. This thinking does a great job of acknowledging God's sovereignty regarding disability, but it unfortunately overlooks the brokenness of creation, the need for restoration to 'life as it is supposed to be.'

The third view, the biblical view, goes like this: "Disability is a Normal Part of Life in a Abnormal World." Essentially, disability is a symptom of the brokenness of Creation. Things are not as they are supposed to be – Creation is groaning (Romans 8:22) because sin, disability, broken homes and relationships, economic inequality, war-mongering, and other ailments (both large and small) still impact our lives.
I heartily recommend the book "Same Lake, Different Boat," by Steph Hubach, but I also encourage you to check out the other resources she offers, including an amazing DVD study for you to use in education courses related to the issue of disability, in small group or adult education courses at church, or just with your disability and leadership teams at your church.
So, what do we learn, then?
Disability is not a blessing, nor it it a curse. Disability is a symptom of a broken world, and yet is still redeemed to His purposes.
God is sovereign over disabilities and the people who have them.
Even if God gives, or permits, a disability, it is only as a tool for His redemptive purposes, not as an end unto itself.
As always, The 5 Stages is built on a biblical view of disability. If nothing else, The 5 Stages exists to point the very discussion of disability and inclusion in the direction of Christ. But I wonder what our readers think. Does disability come from God? Why do you think of it as a curse, or why do you think of it as a blessing?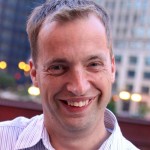 Dan Vander Plaats is the Director of Advancement at Elim Christian Services in Palos Heights, Illinois, a ministry that exists to equip people who live with disabilities to answer God's call on their lives. He is also a member of the advisory committee for Disability Concerns for the Christian Reformed Church. In 2009, he developed "5 Stages: The Journey of Disability Attitudes" as a resource for Elim. The 5 Stages helps churches and individuals assess their attitudes toward people with disabilities. He is married to Denise (Hiemstra), and is father to Ben and Emma. They are members of Orland Park Christian Reformed Church in Illinois.