I am Disabled
I have a disability. It's a slight speech impediment as a result of damage to some nerve centers at the base of my brain. Only one vocal chord works, my tongue barely moves, and I have to work hard to manipulate my lips and teeth to form words. It has always been this way.
I not only grew up with a speech impediment, I also grew up hearing the story that I wasn't supposed to live for very long.
The World Tells Me I am Valuable
So, as I grew up (and lived beyond those first few rough years), I became accustomed to being a child who 'succeeded despite the odds,' who 'overcame so many difficulties.' It became enticing, even a challenge, to keep proving what I could do despite my disabilities.
I never realized I was buying into one of the world's lies.
The Values Preached by the World are Lies
The world lies to those of us who have disabilities. It tells us what makes us valuable, or attractive, or important. It does these things by focusing on what makes us different, or even what makes us the same. It defines all our value based on extrinsic characteristics. It lies to us.
So what are the lies that the world tells us?
You are valuable because of what you accomplish. This was the sticky one for me. I could prove that I wasn't that disabled, I thought. I am actually able to do so many normal things that you might as well think of me as normal, I thought. When we read stories about a lady with autism who overcomes the odds to graduate from college, we are seeing the subtle lie. You are accomplishing 'despite your disability,' therefore you are valuable. Or, conversely, if you cannot accomplish anything, you are therefore not valuable at all.
You are valuable because you have a disability. Pride used to be one of the seven deadly sins, now it is somehow 'good' to have pride. The mobilization of different people groups to have 'pride'-based parades has also permeated the culture of people living with disabilities. In fact, people with certain impairments seek to build up a culture where those impairments are actually celebrated and valued, persuaded that what makes life worthwhile is living with that specific impairment.
You are not disabled. You are just different. Who wants to be disabled? I sure didn't. Many parents feel the same way about their children who live with disabilities. Perhaps as a way to accept their child's disability, they re-interpret the reality of disability as though it is no different from life without a disability. While in my case, many parts of my daily life are 'normal,' the reality is it has hundreds of impacts every day, from whether or not the person on the other end of the phone takes me seriously to how I'll be treated by the teenaged clerk at the local hardware store. Disability is not just another 'difference.' And even difference itself should not be celebrated (and neither should sameness).
The World Lies to Us All
But these lies aren't just being told to and accepted by those of us who live with disabilities. They are preached to all of us. We are all accepting these lies by believing things like:
You are valuable because of what you own.
You are worthwhile because of how you look.
Your life means something because of your job title.
But our God is a God of Truth
Paul talks about 'exchanging the truth of God for a lie. (Romans 1:25)' The truth of God comes from Him, and is found within His Kingdom. The lie comes from the kingdom of this world. It is pervasive and it is a poison. It is fleeting and temporary. It is the wind. Today, I accomplish something, but tomorrow, I am emptied of accomplishment. Today I look great, twenty years from now, my looks have faded. Today, I don't feel all that different from everyone else. Tomorrow, I will feel like every little task is a major challenge.
When we base our 'truth' on extrinsic qualities: how we feel, how we perceive ourselves, where we feel most comfortable, we once again accept the lies of this world, instead of the Truth of God: that He created us. That He has a plan for our lives. That He uses that which is external to shape, to direct, and to make us into what He has called us to be.
The Truth of God is that our Value Rests in Him
So what is God's truth about what makes us valuable? For all of us, what makes us valuable is that we are children of God, made in His image.
I am not valuable because of what I accomplish. I accomplish things because God has called me into the service of His Kingdom.
I am not valuable because of my disability. I have a disability, and God uses me, sometimes despite my disability, and sometimes because of it, to draw myself and others closer to Him.
I am not valuable because I am different, or because I am not different. I am valuable because God uses me, in all of my uniqueness and in all the ways in which I am part of a community.
I am not valuable because of how I look, or how important or wealthy I am. I am valuable because I am a child of the Living God, a servant of the Heavenly Kingdom, and a co-heir in Christ.
Don't believe the lies of this world, that our value ebbs and flows on the whims of man. Whether or not you live with a disability, your value is, always was, and always has been defined and given by our Creator God.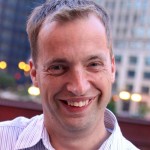 Dan Vander Plaats is the Director of Advancement at Elim Christian Services in Palos Heights, Illinois, a ministry that exists to equip people who live with disabilities to answer God's call on their lives. He is also a member of the advisory committee for Disability Concerns for the Christian Reformed Church. In 2009, he developed "5 Stages: The Journey of Disability Attitudes" as a resource for Elim. The 5 Stages helps churches and individuals assess their attitudes toward people with disabilities. He is married to Denise (Hiemstra), and is father to Ben and Emma. They are members of Orland Park Christian Reformed Church in Illinois.