Brad has served at Elim for almost three decades, and like many of us, he never expected to be here for very long. Something about Elim, though, draws you in.
Also, like a lot of us, Brad started out wishing for a better life for those we serve. After all, life with disabilities seems a grim prospect, and you at least wonder if there's the possibility that something more could be done with their lives if only they weren't all disabled.
So it happened that Brad would find himself praying for healing, not for himself, but for the adults with disabilities to whom he tended each day. One day, he was in the middle of this prayer, when Liz began to sing a hymn she had learned in her church.
When Brad told me this story, he said it was an eye-opener for him, perhaps literally, since he had been praying at the time. But figuratively too. Maybe it was God's way of showing us that He doesn't need us to be normal to show His love.
That raises a question for me, because I normally think of God in terms of His power, and that's where a lot of this disability talk gets tripped up. Most of the people I know at Elim, who have a disability, will never have power. But what they often possess, and share freely, is a love that shames my own expression of this chief character of God.
But this, too, is an area where I have to be careful, because God did not make people with disabilities more loving than He did with me. They are just more uninhibited in sharing His love, and that's probably what makes their expression of it so much more powerful than mine.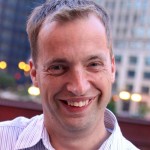 Dan Vander Plaats is the Director of Advancement at Elim Christian Services in Palos Heights, Illinois, a ministry that exists to equip people who live with disabilities to answer God's call on their lives. He is also a member of the advisory committee for Disability Concerns for the Christian Reformed Church. In 2009, he developed "5 Stages: The Journey of Disability Attitudes" as a resource for Elim. The 5 Stages helps churches and individuals assess their attitudes toward people with disabilities. He is married to Denise (Hiemstra), and is father to Ben and Emma. They are members of Orland Park Christian Reformed Church in Illinois.