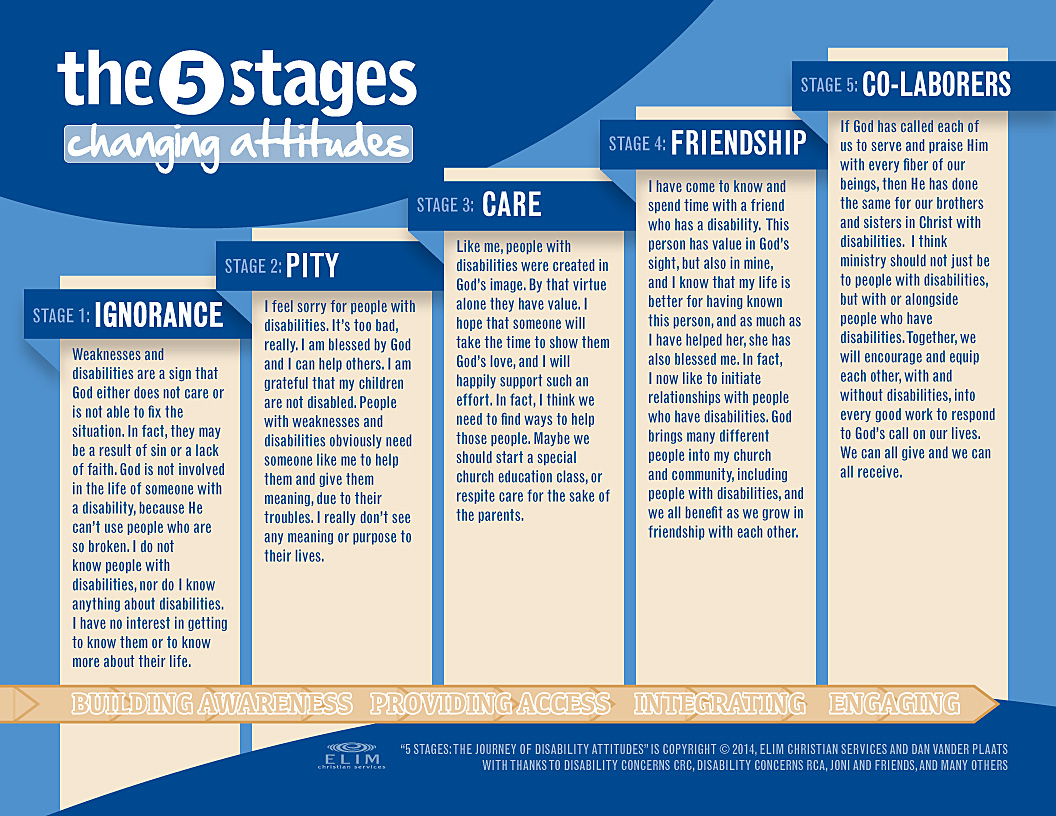 The 5 Stages is a tool designed to help you, your family, your church, and your community identify where you are on the Journey of Disability Attitudes. It starts conversations and is focused on change at the heart-level. Doing so means we focus less on demanding rights and defining our value as people with disabilities, and help other people see the Kingdom God is building, and our place in that Kingdom alongside our fellow believers.
How did this get started?
While many people have contributed to the 5 Stages tool, it was originally conceived as a direct result of events that took place during the Labor Day weekend in 2009. Our friends at Food for the Hungry had invited some of us from Elim to join them at a promotional event out in Sioux Falls, South Dakota. The story is told by Dan Vander Plaats, Director of Advancement at Elim Christian Services.
After our first day at this event, we were all overheated and ready for some air-conditioning and good food. We headed over to a restaurant just down the street from our hotel, and sat down to order some food. Our waitstaff came over and went around the table asking us all our names. When she came across two of our Elim adults, her conversational tone changed from peer-to-peer to adult-to-child. I thought she was just being nice, until she used the same tone on me.

I was annoyed, offended, and later I got angry. I had spent my life not being categorized with people who had disabilities, not being treated like them. It kind of annoyed me when people who visited Elim asked me when I had graduated. It was a little embarrassing, in all honesty, when people mistook me for part of the group of people with disabilities I was chaperoning. It reminded me of being a young man crying out to God that He would just remove my speech disability, because I so badly wanted to be normal. I remembered never wanting to visit places that served people with disabilities because I just thought it was depressing and uncomfortable.

And then I realized what I was doing. The very attitudes I hated about other people were the same attitudes I had towards our folks with disabilities. I realized that my attitude had changed a little bit over the years, but I still had a negative reaction to being grouped with people who had disabilities. I realized it was all about attitudes. I decided I should document these attitudes because people needed to know about them. Besides, how would their attitudes ever change if they had never thought about them or had them pointed out?

Click here to down the 5 Stages diagram in English (PDF format).

It made sense to me that people had to see their disability attitudes as a problem. And not because we manufactured it as a problem, but because IGNORANCE really was there and it really was a problem. Because while PITY was good and necessary, it was too often the limit of our concern for people with disabilities. People had to be able to see these as problems, and they had to see how far they had to go before they truly had a God-honoring attitude toward people with disabilities. But they also had to be able to self-identify – to see this as their problem and not someone else's problem. We wanted them to ask themselves, after seeing the diagram, what is my attitude and how do I change it?

I went back to my laptop and started typing out the first draft of what would become the '5 Stages of Disability Awareness.' I shared it a few months later with friends from the Disability Concerns Advisory Committee. I shared it with co-workers at Elim. It seemed to be a helpful tool, so we worked on it some more. We worked on the words, changing care to compassion, discussing if we should change pity or ignorance, just because those words seemed too strong. We started asking for feedback on the word choices, and started adding descriptions to each stage. We worked up a few different versions of graphics to communicate the stages, and even took a crack at a blog to share the 5 stages. This website is the result of those early efforts.
Where do we stand today?
Today's version of the 5 Stages document is a completed document (as opposed to a working document) and is available for translation and reformatting. The goals for the 5 Stages are the same today as they have always been:
To help people see that the most disabling condition is usually our attitudes toward people who have disabilities
To help people, churches, and communities assess their own attitudes using a simple diagnostic tool (the 5 Stages document)
To foster the full inclusion of people with disabilities into our churches and communities and to thereby support the Kingdom-building work of God
If those are your goals as well, we invite you to join our movement, to learn more about the 5 Stages, and to commit to sharing it in a specific place at a specific time, and to tell us all about it.