Elim Christian Services has a unique role in the creation of the 5 Stages resources, but before we detail that role, let's give credit to some of the other organizations who have participated in the shaping of that tool, including: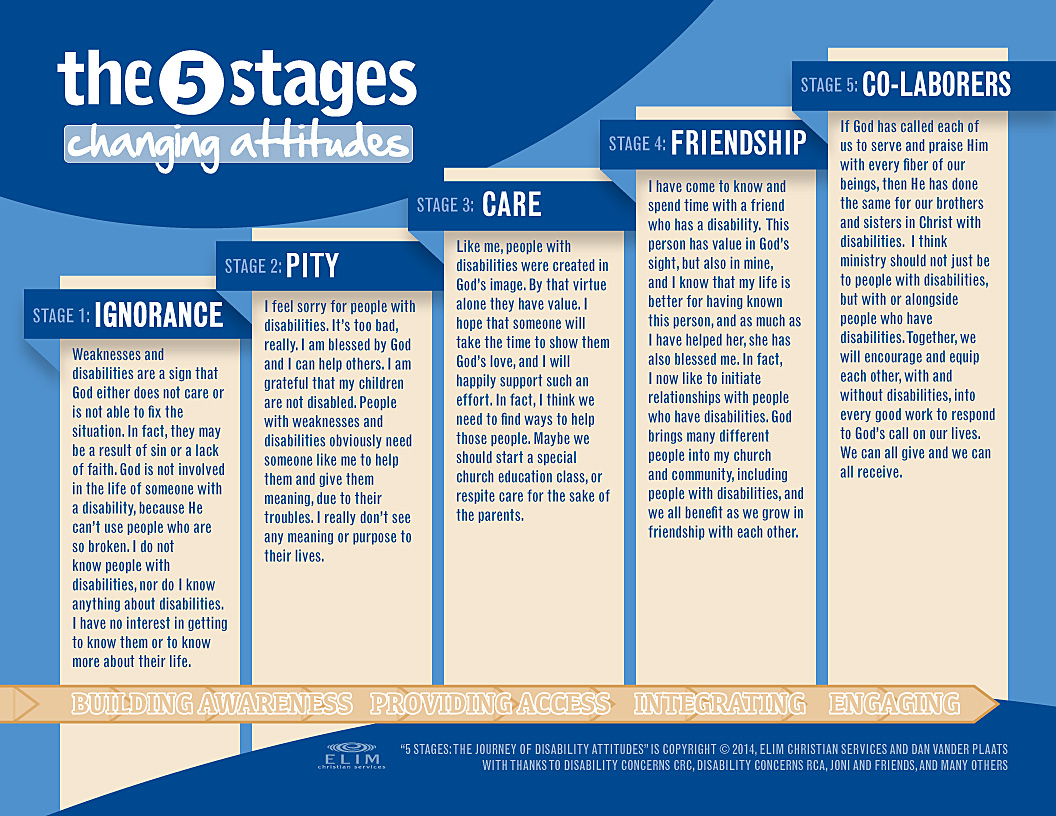 While all these organizations played a role in shaping and providing feedback on the development of the 5 Stages resources, it was Elim that was the birthplace of the concepts and realities that undergird the tool.
In the origin story of the 5 Stages, you can read how the original author struggled to piece together how his own attitude toward disabilities was the core problem, not only with how he viewed others' disabilities, but how he viewed his own. So what did Elim have to do with this?
As the author contemplated how people are supposed to look at people with disabilities, he:
thought back on how I had just been treated, looked down on, condescended to. I thought about how I wanted to be treated, and how most people just treated me like normal. But that's because I could do most things an independent non-disabled person could do. So where was the example of how to treat people who had more significant disabilities, because clearly they were being treated as lesser, even by people like me. So I thought about longtime co-workers at Elim, people like Kris and Tim, devoted servants like Sharon and Nikki. I thought about how talked to and treated the 900+ children and adults who come to Elim every day.

And I realized, there was no coddling, no pity, no avoidance. These teachers and paraprofessionals, these workfloor supervisors and case managers got directly into the mess of everyday life and challenged, pushed, expected a little bit more every day of our children and adults. They were not pitied, they were challenged to become who God created them to be. It wasn't just fun and relationships, it was a clear case  of "God created you to serve and we've got to figure out how you can and will serve Him."
These teachers and case managers who provided this example all worked at Elim Christian Services, many of them for dozens of years. Elim is a special place that continues to be shaped by the following core values:
Christ-centered community
The purpose and value of each person
Becoming a learning and sharing community
These values need to be upheld, which is why Elim has taken the responsibility of stewarding "the 5 Stages" and providing this website resource. You are encouraged to honor Elim's significant contributions to the cause of people who live with disabilities by making a gift to Elim to support their work and mission. You can find out more about Elim by clicking here to visit their website.